Midday Stock Roundup
Thursday, February 2, 2017
Share this article: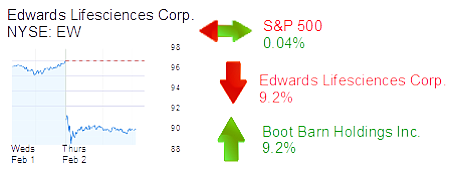 The S&P 500 was flat in midday trading at 2,280.39.
The Dow Jones Industrial Average was flat at 19,885.09.
The NASDAQ was down 0.1% to 5,635.77.
The yield on a 10-year Treasury bond fell 0.2% to 2.47%.
The price of gold rose 0.8% to $1,218.
HEALTHCARE
Edwards Lifesciences Corp. was down 9.2% to $88.93 and a $19 billion market cap. The heart valve maker beat expectations in its most recent quarter but analysts at BTIG and Leerink downgraded Edwards' shares, with price targets of $105 and $110, citing a tightening market for the company's primary product. Edwards has been diversifying into other types of valves in recent years.
Glaukos Corp. in San Clemente was up 3.5% to $42.52 and a $1.4 billion market cap on moderate volume. The eye care medical device maker named a senior executive to chief operating officer, a new position at Glaukos.
RETAIL
Boot Barn Holdings Inc. in Irvine was up 9% to $11.85 and a $313 million market cap. The western shoe and apparel retailer met expectations for revenue and profits in its most recent quarter and offered strong guidance for its current quarter and full year, which end in April.