Midday Stock Roundup
Friday, December 29, 2017
Share this article: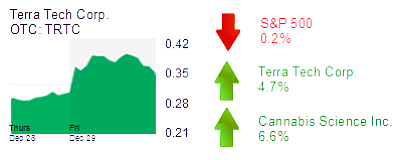 The S&P 500 was down 0.2% in midday trading to 2,682.41.
The Dow Jones Industrial Average declined 0.2% to 24,799.59.
The Nasdaq ticked down 0.3% to 6,928.77.
The yield on a 10-year Treasury bond fell 1.1% to 2.40%.
The price of gold climbed 0.7% to $1,306.
AGRICULTURE/MANUFACTURING
OC-based cannabis companies swung heavily higher and lower ahead of legal recreational pot in California on Jan. 1 and moves by the companies to capitalize on the new law or stay afloat long enough to do so. All stocks trade over-the counter, while a couple also have products and revenue.
Terra Tech Corp. (TRTC) in Irvine makes hydroponic equipment and sells herbs and floral products to retail stores. It was up 4.7% to 36 cents and a $316 million market cap.
Cannabis Science Inc. (CBIS) in Irvine develops cannabis-based products and runs dispensaries. Shares were up 6.6% to 10 cents and a $262 million market cap.
Kush Bottles Inc. (KSHB) in Santa Ana makes bottles, bags, and other containers for cannabis products. It was down 4.8% to $3.91 and a $234 million market cap. Shares closed the week up about 30%.
SIPP Industries Inc. (SIPC) in Costa Mesa makes plasma lighting for indoor horticulture and is a partner on a project to make hemp-based beer. Shares were flat at 8 cents and a $51 million market cap.
GreenGro Technologies Inc. (GRNH) in Garden Grove was up 12.8% to 8 cents and a $30 million market cap. It makes vertical cultivation systems and products.
Nemus Bioscience Inc. (NMUS) in Costa Mesa develops cannabis-based drugs; it reported a link-up with a Canada-based cannabis company via a $900,000 convertible bridge loan, possible preferred shares sales and "strategic opportunities."