Anaheim Apparel Center Closing
Friday, December 29, 2017
Share this article: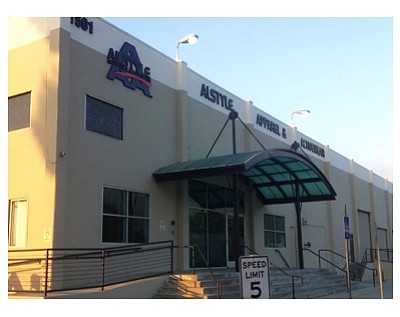 A 200,000-square-foot distribution center in Anaheim run by a unit of Canada-based Gildan Activewear is closing and laying off 81 workers, about 30% of whom will transfer to a larger facility in Riverside County.
The layoffs are noted in a Worker Adjustment and Retraining Notification (WARN) Alstyle Apparel filed with the state EDD on Dec. 1. The job cuts are effective Feb. 1.
Gildan in 2016 bought Alstyle, which makes t-shirts and sweatshirts.
Anaheim had been its U.S. headquarters and its LinkedIn profile notes an 800,000-square-foot manufacturing facility in Agua Prieta, Mexico, on the Arizona border.
Trade news reports said Gildan planned to move Anaheim distribution to a 350,000 square foot complex in Jurupa Valley, a mile from I-15 and SR-60, and which handles Gildan's American Apparel products as well.
Gildan bought American Apparel assets in 2017, including a Garden Grove manufacturing facility with 330 workers. It sold the facility to textile maker Broncs Inc. in Compton; the website of Broncs' parent company WesCoast Textiles Inc. now lists the OC property as a knitting, dyeing and finishing site for fabric.
Gildan has 42,000 workers worldwide.