Midday Stock Roundup
Thursday, December 28, 2017
Share this article: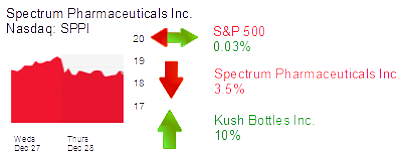 The S&P 500 was flat in midday trading at 2,683.54.
The Dow Jones Industrial Average rose 0.1% to 24,806.27.
The Nasdaq ticked up 0.1% to 6,943.16.
The yield on a 10-year Treasury bond was 0.8% higher at 2.43%.
The price of gold climbed 0.4% to $1,297.
HEALTHCARE
Spectrum Pharmaceuticals Inc. was down 3.5% to $18.95 and a $1.9 billion market cap on moderate volume. The company makes oncology and hematology drugs; it's chartered in Henderson, Nev., with administration and manufacturing in Irvine.
MANUFACTURING
Kush Bottles Inc. (OTC: KSHB) in Santa Ana was up 10% to $3.96 and a $238 million market cap on high volume. Kush makes products for the cannabis industry and, with a Jan. 1 expansion of legal marijuana in California pending, has been part of stories in the Business Journal, on Dec. 18, and TheStreet.com, today. Shares by midday traded at a rate more than 3 times its 90-day average.
SERVICES
ShiftPixy (Nasdaq: PIXY) in Irvine was down 6% to $3.08 and an $89 million market cap. The tech-based temp firm provides shift workers to restaurants via smart phone app. Shares have fallen about 60% since a mid-year IPO.