Midday Stock Roundup
Friday, December 22, 2017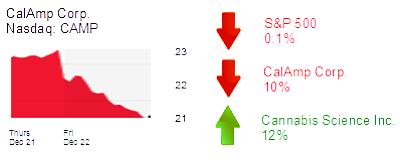 The S&P 500 was down 0.1% in midday trading to 2,680.79.
The Dow Jones Industrial Average was down 0.2% to 24,729.18.
The Nasdaq ticked down 0.2% to 6,952.29.
The yield on a 10-year Treasury bond was up 0.3% to 2.49%.
The price of gold climbed 0.7% to $1,279.
TECHNOLOGY
CalAmp Corp. (Nasdaq: CAMP) in Irvine was down 10% to $21.28 and a $757 million market cap. The maker of telematics and products for mobile and remote management reversed a loss year-over-year and beat analyst expectations in its most recent quarter but next quarter's earnings per share are guided in a range that can come in lower on EPS than this quarter and includes $13 million from the third of four quarterly installments from a legal settlement. CAMP shares are up about 50% for the year.
HEALTHCARE
Cannabis Science Inc. (OTC: CBIS) was up 12% to 7 cents a share and a $166 million market cap. The maker and developer of cannabinoid-based medicine bought a second L.A.-area dispensary this week; marijuana and related products are expected to become more widely available in 2018 as recreational use of the drug is legal in California after Jan. 1.