Midday Stock Roundup
Tuesday, December 19, 2017
Share this article: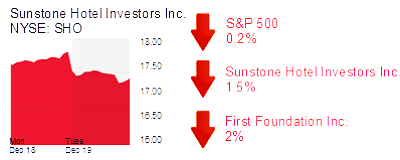 The S&P 500 was down 0.2% in midday trading to 2,684.93.
The Dow Jones Industrial Average fell 0.1% to 24,777.11.
The Nasdaq declined 0.5% to 6,963.04.
The yield on a 10-year Treasury bond jumped 3.1% to 2.47%.
The price of gold dropped 0.2% to $1,263.
REAL ESTATE
Sunstone Hotel Investors (NYSE: SHO) in Aliso Viejo was down 1.5% to $17.19 and a $3.8 billion market cap. Wells Fargo analysts lowered their rating on the hotel REITs shares to "market perform" from "outperform."
FINANCE
First Foundation Inc. (Nasdaq: FFWM) in Irvine was down 2% to $18.66 and a $703 million market cap. The financial services' firm said it will buy PPB Bancorp in L.A. for $106 million in stock.
TECHNOLOGY
NetList Inc. (Nasdaq: NLST) in Irvine was down 7% to 36 cents and a $25 million market cap on high volume. Shares in the modular memory systems maker have been heavily traded in the week since a judge affirmed that its patents in a legal dispute were valid but that the defendant in the case, SK Hynix hadn't infringed on them.