Hyatt Regency Near JWA on the Way
Thursday, December 7, 2017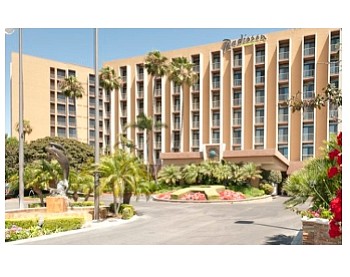 The former Radisson Hotel Newport Beach is being renovated and will be reflagged as a Hyatt Regency in early 2018.
The hotel is on MacArthur Boulevard across from John Wayne Airport and is currently a Carlton—a Hyatt-affiliated name and one that properties use in transition from one brand to another.
Radisson is a business-class flag and the hotel under that name had been a 3-star-level property; the Regency name gets into luxury service and amenities and the 4-star-level of hotels.
It has about 340 rooms and was last sold in October 2003 for $21 million, or $62,000 per key. The owner is Newport Hotel Holding LLC in Beverly Hills, property records show.
The extensive renovation is believed to be for no less than $35 million, the amount the former Fairmont Hotel, a half-mile away, is putting into its re-do, after being bought in February for $125 million.
After 15 years of appreciation, a major renovation, and an upgraded brand, the coming Hyatt Regency would be worth more than $100 million, industry sources said.
They said hotel construction and renovation in OC generally, and near the airport specifically—including the former Fairmont, currently the Duke Hotel and soon to be a Renaissance—is partly behind the new Regency's revamp.
There is also a Hyatt Regency on Jamboree Road, four miles from the new one.
Tom Clearwater is general manager of the Carlton, which isn't run by Hyatt.
A Hyatt spokesperson said the reflagged Regency won't be under the chain's Area Vice President David Nadelman, named to that role last month. He oversees seven Southern California Hyatt Regency hotels and is GM at Hyatt Regency Garden Grove near Disneyland.
Carlson Rezidor owns the Radisson brand. It has U.S. headquarters in Minnetonka, Minn., and is owned by HNA Group in Haikou, China.
Hyatt Hotels Corp. is based in Chicago.