Broadcom Beats and Boosts
Thursday, December 7, 2017
Share this article: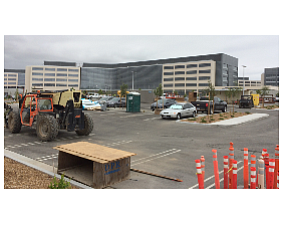 Singapore-based Broadcom Ltd., which operates a major hub in Irvine, closed the books on its fiscal year with sizeable gains in revenue and net income.
The chipmaker, which is in the midst of repatriating its headquarters to San Jose, posted sales in the 12 months ended September of $17.3 billion, up 33% from the same period a year earlier.
Net income topped $2 billion, or $4.59 per diluted share, compared to $1.5 billion, or $3.47 per diluted share.
Rising demand for its communications chips embedded in popular Apple and Samsung smartphones drove fourth quarter performance past Wall Street expectations.
Broadcom posted revenue of $4.8 billion, up 9%, and net income of $671 million, or $1.50 per diluted share, up from $507 million, or $1.14.
The chipmaker also boosted its quarterly cash dividend to $1.75 per share, vs. $1.02 per share in the prior quarter.
The company in November completed a $6 billion buy of Brocade Communications Systems Inc. in San Jose, roughly a year after it was announced. The deal had been under scrutiny by the Committee on Foreign Investment in the U.S., which held up the sale three times.
Tan and Broadcom ended the year with a hostile bid of $103 billion for San Diego-based Qualcomm Corp., a longtime rival. Qualcomm's board unanimously voted against the sale, setting the stage for a pending Broadcom board fight.
Broadcom Ltd. had been known as Avago Technologies Ltd. prior to its $37 billion blockbuster deal for Irvine-based Broadcom Corp. that finalized in early 2016.
Broadcom Ltd. under Chief Executive Hock Tan has largely grown operations through acquisitions, while cutting nonperforming and non-core business lines.
The company has shed about a third of its local operation in Irvine since the Broadcom Corp. sale, cutting more than 750 jobs and divesting at least two business lines that were led from OC.
It stopped reporting local employment figures to the Business Journal last year.