Chapman: Tax Reform to Boost Economy
Wednesday, December 6, 2017
Share this article: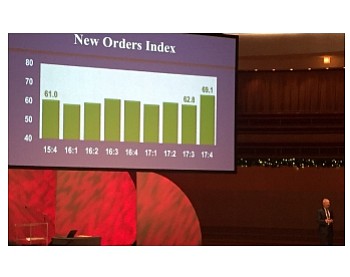 The U.S. economy will slow to a 2.2% increase in 2018 from an estimated 2.3% this year, according to the newest forecast from Chapman University's A. Gary Anderson Center for Economic Research.
On the other hand, if a tax package before Congress is approved, the economy may increase 2.5% in 2018, according to James Doti, who this afternoon presented Chapman's 40th anniversary economic forecast to business and community leaders at the Segerstrom Center for the Arts in Costa Mesa.
Orange County's job growth will pick-up slightly, Doti said. After growing 3.2% in 2015 and 2.3% in 2016, jobs increased at an estimated 2.4% this year. OC job growth may pick up slightly in 2018 to an estimated 2.6%, he said.
Orange County in October reported an unemployment rate of 3.3%, according to the state's Employment Development Department.
The current U.S. expansion since 2009 is the second longest on record.
"The critical question now is whether the expansion can endure in the face of full employment and falling productivity," the report said.
The Chapman forecast is below the 2.5% growth expected in both 2017 and 2018 by a group of more than 60 economists surveyed in November by the Wall Street Journal. The school said its forecasts ranked No. 1 for the period of 2004 to 2014 when compared to similar predictions issued by organizations participating in the Blue Chip Survey.
California's job growth may slow to 1.5% growth in 2018 from an estimated 1.7% this year, the report said. Silicon Valley is the big piston in the state's economic engine. The manufacturing sector hasn't grown and "is certain" to show additional weakening in 2018, the report said.
Construction and information service jobs have shown strong growth here. However, a rise in interest rates and lack of affordable housing may cause residential permits to grow at a slower pace in 2018 than 2017.
"California is becoming increasingly dependent on the cyclical and volatile construction sector," the report said.
The proposed tax bill reduces the advantages of owning a home, which may lead to a decline in the price a buyer may pay in California, the report said. Orange County homes may decline 8.7% from a current median price of $685,000, the report said.
The Business Journal will have a more detailed examination of the OC economic outlook and the Chapman report in its digital edition on Saturday and Monday's print edition.