'Grey Friday': Nov. Sales Mixed for OC Carmakers
Friday, December 1, 2017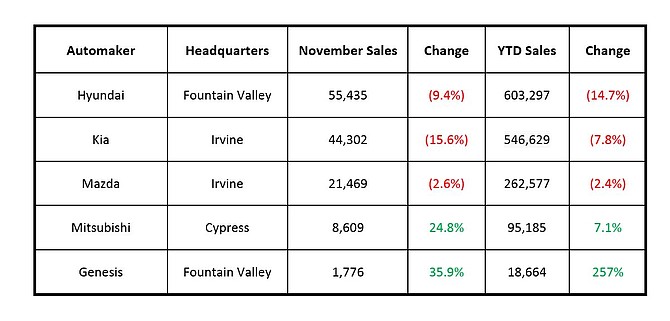 OC-based automakers saw mixed sales results in November and year-to-date.
Hyundai Motor America, Kia Motors America Inc. and Mazda Motor of America Inc. saw declines for the month and year-to-date; Mitsubishi Motors N.A. Inc. had increases in both categories.
Hyundai's Genesis brand, which reports separate results, also saw gains in both monthly and year-to-date numbers.
Autodata said industrywide sales fell to an annualized rate of 17.5 million cars, down from October's 18.1 million rate that had been boosted by buyers replacing cars destroyed during hurricane seasons, and lower than the 17.8 million annualized rate that Edmunds analysts had expected
Two of the three biggest U.S. brands—General Motors Corp. and FCA USA LLC, the Fiat unit that owns Chrysler—fell in November, while Ford Motor Co. sales rose 7% on the strength of its F-Series pickups.
All three makers are selling fewer cars to rental company fleets in an ongoing bid to increase profits-per-car even as sales numbers for each, year-to-date, drop.