Firms Fight Terrorism With Tech
PUBLIC SAFETY AND SECURITY SOON $500B MARKET
Monday, August 28, 2017
Share this article: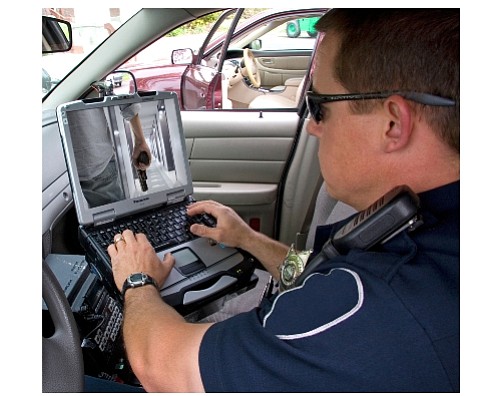 Two Orange County technology companies are trying to cut down emergency response times when seconds can mean the difference between life and death.
Irvine-based StreamQuik Inc. recently released VidAware Alert, which instantly turns smartphones and computers into panic buttons. In Newport Beach, Vic Merjanian's startup, Titan Health & Security Technologies Inc., just launched its patented Next Gen 911 system nationally. It allows users to broadcast campus emergency alerts, lockdowns, safety status, and location to law enforcement, campus administrators or private businesses in the network.
VidAware runs through a web browser and Wi-Fi without use of the app, delivering alerts directly to command centers and police vehicles in the area. Its QuikHelp system allows customers, such as schools, hospitals and other entities, to send alerts by simply tapping a button on their smartphones, tablets or PCs.
"This can eliminate those hold times," said Chief Technology Officer Ken Lee, who co-founded StreamQuik in 2009 to help broadcasters eliminate production trucks and mobile studios. "As time went on, we saw an even bigger need for our technology in the public safety and law enforcement sector."
Indeed, product sales and services in the public safety and security market are projected to grow from $247 billion last year to $456 billion by 2021, according to search firm MarketsandMarkets (see related Tech & Cybersecurity Special Report).
StreamQuik, which has annual revenue between $5 million and $10 million, employs 22 in Irvine.
Lee is positioning its technology to meet the requirements of a new mandate from the state and the U.S. Department of Labor's Occupational Safety and Health Administration that requires California employers to implement a plan for workplace violence prevention and response.
The company's offering, which also displays incoming text message alerts, photo links and live security camera videos through a browser, has more than 200 customers, including South Coast Plaza and Chapman University.
The university in Orange has been using the system for about a year to analyze footage and respond to incidents on its 78-acre campus, which is outfitted with about 400 cameras.
"We're still learning and developing policies and procedures around it," said Chief of Public Safety Randy Burba, who oversees about 30 officers and staffers. "Anytime we can reduce time and get help to our community as fast as possible with any tool that can accomplish that is the No. 1 priority."
Merjanian, an attorney by trade, is pushing a similar message to potential customers. The issue hits close to home for the Corona del Mar native, who encountered several communication hurdles while trying to save an unconscious dorm mate who overdosed on pain pills as an undergraduate at the University of California-San Diego.
Merjanian, with cellphone coverage dropping in and out, was able to find an emergency room at a nearby hospital during a frenzied drive around campus, but not before he was turned away from a Veterans Affairs facility.
The student lived, and the incident left an impression years later.
Demand
Titan has racked up about 250,000 users in its network since it went live about a year ago and aims to hit 1 million by year-end.
"We're having difficulty keeping up with demand and deployment," said Merjanian, founder and managing partner of Kalfayan Merjanian LLP.
Titan's customer base has more than 114 sites in 44 states, including several local school systems, such as Newport-Mesa Unified, Huntington Beach, Fountain Valley and Learn4Life's network of public charters.
"The need to sound the first alarm often falls on the shoulders of campus users," said Vladimir Anderson, master police officer for the city of Newport Beach who oversees student safety on school campuses. "In a critical incident, a timely response during the first few seconds is essential, and Titan HST provides the immediate support for an effective response." 
The company has conducted several pilots, including one for the European Commission, which sought help after communication failures in the Brussels terrorist attacks in March 2016 that killed 30 civilians and injured about 300 others in three coordinated suicide bombings.
The initial pilot covered a few hundred emergency staff in Luxembourg and Belgium, and a follow-up was geared for family members of diplomats.
Titan's system and app allows users and emergency personnel to instantly communicate relevant information, including GPS coordinates, text, audio, photos and video, as well as classify types of emergencies.
Administrators and emergency personnel can survey communities for safety and location, and provide access to potential life-saving digital resources such as CPR training videos and site maps. They can also view real-time crowdsourced data in maps and through augmented reality, improving situational awareness.
A big discount retailer uses the service to monitor and respond to warehouse and workforce-related incidents. Titan charges a monthly fee per user.
A new pilot in development with Newport-Mesa Unified will incorporate telemedicine, and potentially biosensors and wearables worn on students that track heart rate, glucose levels, temperature and other metrics. Under that service, parents or guardians make a micropayment for diagnosis, treatment or listings for nearby health providers.
The company, which has raised $2.2 million in seed funding, plans to roll out the medical service early next year.
"We do still have a law firm, but it's mostly a hobby," Merjanian said. "The technology is more the driving force and where my excitement and energy goes."
The developments come amid a rising opioid crisis, mass school shootings stateside, and a rash of domestic and global terrorists attacks that use vehicles as weapons, most recently evident in the death of 32-year-old Heather Heyer, who was run over in a Dodge Challenger driven by James Alex Fields during a white nationalist rally in Charlottesville, Va.
The OC products and services could help alleviate another national problem. The majority of law enforcement departments and other first responders can't receive texts, photos and videos in real time. Only about 650 of the more than 6,000 dispatch centers in the U.S. can receive text messages, according the Federal Communications Commission.
Titan was recently granted a patent for two-way communication between administrators, users and first responders, such as police, fire and 911 dispatch.
"There's got to be a way to secure privacy while you can still summon help," Merjanian said.