Nekter: 17 Carolinas Units
Tuesday, August 22, 2017
Share this article: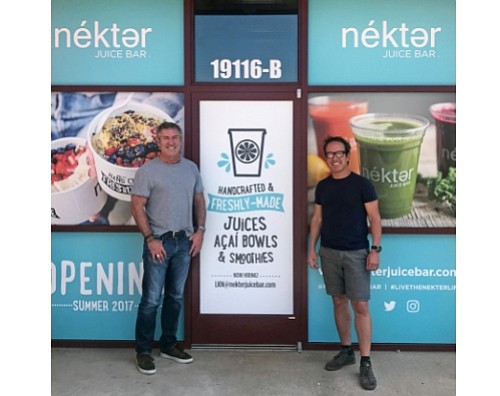 Nekter Juice Bar Inc. in Santa Ana has signed a franchisee to open 17 locations in the Carolinas over the next several years, the first in October in Cornelius, N.C., near Charlotte.
The franchisee is KindredFruit LLC in Charlotte. Chief Executive Todd Engel is a dentist who also runs the Engel Institute, a post-graduate continuing education provider to dentists.
Nekter Juice Bar ranks No. 26 on the Business Journal's most recent list of Orange County-based restaurant chains, with 77 locations and $43 million in systemwide sales, both as of the end of last year.
The company now has 85 locations in six states, most in the Southwest, and 25 in OC. The latest here is in Orchard Hills and the next new state on the West Coast is Washington, which is scheduled to come online by year-end.
The Carolinas are also new states for Nekter. The Business Journal previously reported on the juice and healthful-food seller's East Coast expansion. At least one location in Florida is also planned by year-end.
"Our franchisees are blowing through development schedules in existing and new markets," said Chief Executive Steve Schulze, via email. Schulze co-founded the company in 2010 with his wife, Alexis. The couple collectively are three-time Business Journal event award honorees.
Nekter's franchise fee is $35,000. An area developer like Engel pays for the rights to entire markets, as well as half of the franchise fees for each additional location, franchise filings show.
Royalties and advertising come to 8% of gross sales, and it costs $212,000 to $485,000 to open one Nekter Juice Bar.
2016 average gross sales were $762,000 for company-owned locations and $837,000 for franchised ones; earnings before interest, taxes, depreciation and amortization were about 20% and 16%, respectively.