CEO SHOWS HOW TO GET TO 150K EMPLOYEES
Allied Universal's Explosive Growth
Monday, August 21, 2017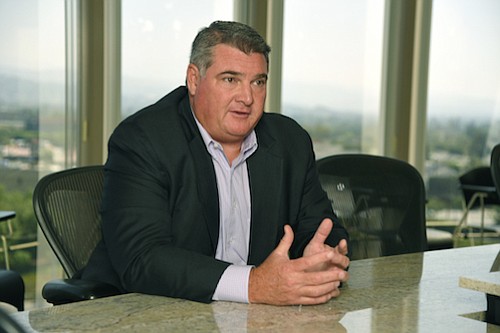 If Allied Universal, a security company with 150,000 employees, was an army, it'd be the 34th largest in world, right behind Japan's.
"Just the ability to communicate what you're doing and why is challenging," Chief Executive Steve Jones said from the sixth-floor conference room of his headquarters overlooking the Costa Mesa (55) Freeway in Santa Ana.
Jones has taken a company that generated $12 million in annual sales when he joined it in 1996 to an estimated $5.3 billion this year. His mastery of revenue growth could very well be a case study in business school. In fact, one of his investors, Partners Group, was so pleased with tripling its investment return that its website cited Jones' company as a case study.
The biggest deal was a year ago when his Universal Services of America merged with AlliedBurton Security Services. The merged company is the largest security firm in the U.S. The new employee count is just behind Boeing Co., which ranks 43rd among U.S. employers, according to a Fortune 500 list.
"It's been a heck of a year," Jones said. "We tried to accomplish in six months what it takes most companies 12 to 24 months."
He hasn't stopped acquiring companies. In the year since the merger, the combined company has made another five acquisitions of companies with $398 million in annual sales and 12,000 employees.
Allied Universal, with about 200 offices nationwide, provides guards for financial institutions, office buildings and shopping malls. The company promotes its ability to provide security services on a national scale; about half of the nation's Fortune 500 companies are clients.
Jones sees plenty of opportunity in markets like Texas and Canada and sectors like education and residential communities. He said he believes technology such as an Uber-like app can add another $1 billion in annual sales (see box, this page).
Night School MBA
Jones, who was never a security guard, earned his MBA at night school from the University of Redlands after obtaining a political science degree from California Polytechnic University-San Luis Obispo.
He joined Universal Protection Services in Santa Ana in 1996 and eventually became co-chief executive in 2000, then chief executive in 2007. Jones and Brian Cescolini, who also was in managerial roles at the company, became partners in 2000, eventually sole owners in 2007. Cescolini is now a board member.
While working at a prior job in the trash collection industry, Jones admired how Waste Management bought local companies and implemented similar systems and branding, such as painting its garbage trucks the same green color.
Prev Next