Long Beach Airport Up YTD
Tuesday, August 8, 2017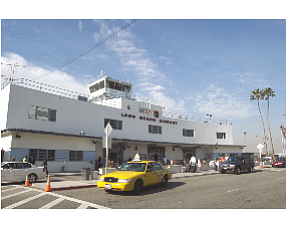 Long Beach Airport's passenger count was up 47% in the first six months of this year—to 1.8 million fliers, from 1.3 million in the same period last year.
John Wayne Airport had about 5.1 million passengers in the first six months of the year, down about 2.5%.
Long Beach has grown because within the last year the airport went to 50 daily flights compared with 41 daily flights, after a mandated noise test in late-2015 showed it could add service.
John Wayne's passenger count is capped at 10.8 million this year and in 2016 saw regular monthly increases and an annual record of 10.1 million passengers. Its flat-to-slightly-down performance year-to-date is seen as part of an effort to stay below the cap and over time spread passenger counts among more airlines.
Southwest Airlines is the OC's facility busiest airline by passenger totals; John Wayne Airport in August 2016 cut Southwest's passenger allocation for this year and the air carrier cut flights to align with the new numbers.
It then began flying from Long Beach last year and other air carriers also added flights at that facility. JetBlue Airways is the busiest air carrier by passenger count there.