Midday Stock Roundup
Tuesday, August 1, 2017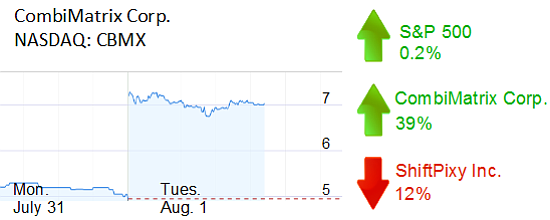 The S&P 500 rose 0.2% in midday trading to 2,476.02.
The Dow Jones Industrial Average climbed 0.4% to 21,978.71.
The NASDAQ increased 0.2% to 6,357.65.
The yield on a 10-year Treasury bond fell 1.3% to 2.26%.
The price of gold was up 0.4% to $1,272.
SERVICES
ShiftPixy Inc. (NASDAQ: PIXY) of Irvine fell 12% to $5.07 and a $145 million market cap. Shares of the maker of an app for restaurant shift workers have steadily declined since they reached an intraday high of $12.03 on July 5. The company went public on June 30 at $6 a share.
HEALTHCARE
CombiMatrix Corp. (NASDAQ: CBMX) of Irvine jumped 39% to $7 and a $20 million market cap. The diagnostics company, which does DNA-based reproductive health and pediatric testing, said it would be bought by Invitae Corp. (NYSE: NVTA) in an all-stock deal valued at about $33 million based on an Invitae share price of $9.49.