Anabella Sets Date
Thursday, April 27, 2017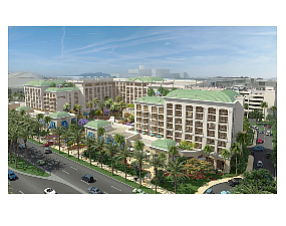 The Anabella Hotel in Anaheim will close in August so its owners can demolish it and build a new hotel.
It currently has 358 rooms that start at $99; the new hotel plan calls for a four-star property with about 630 rooms, at an estimated investment of $225 million.
The four-star property is scheduled to open in 2020 with 100 of the rooms as suites, 41,000 square feet of meeting space, 23,000 square feet of retail and restaurant space, and a rooftop bar.
Anabella is on West Katella Avenue, adjacent to Anaheim Convention Center, and owned by an affiliate of Hong Kong-based developer Wincome Group.
A Wincome affiliate also owns Anaheim Hotel, renamed in early April from Anaheim Plaza Hotel & Suites, across Harbor Boulevard from Disneyland Resort.
Anaheim Hotel has 302 rooms where rates also start at $99 a night; it's slated to be redeveloped into a $208-million, 580-room luxury hotel. A construction start date hasn't been released.
The two luxury hotels, along with one planned by Walt Disney Co., are part of a hotel tax reimbursement deal agreed to by Anaheim in July that totals $560 million over 20 years.