Midday Stock Roundup
Wednesday, April 26, 2017
Share this article: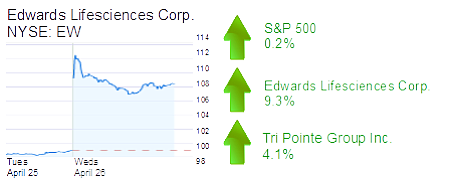 The S&P 500 was up 0.2% in midday trading to 2,393.56.
The Dow Jones Industrial Average was up 0.2% to 21,039.19.
The NASDAQ was up 0.2% to 6,034.04.
The yield on a 10-year Treasury bond was up 0.2% to 2.33%.
The price of gold fell 0.2% to $1,265.
HEALTHCARE
Edwards Lifesciences Corp. in Irvine was up 9.3% to $108.09 and a $22.9 billion market cap. The heart valve maker earned net profit of about $230 million on sales of about $884 million in its most recent quarter. These numbers were up about 60% and 27%, respectively, and beat analyst expectations.
REAL ESTATE
Tri Pointe Group Inc. was up 4.1% to $12.84 and a $2 billion market cap. The developer and home builder's $392 million in revenue beat analyst expectations, although profits fell short of what was expected. Tri Pointe also said it would be bringing more of its larger land assets in California to market, partially in response to recent investor criticism.
RETAIL
Western apparel retailer Boot Barn Holdings Inc. and youth fashion retailer Tilly's Inc., both in Irvine, were up on moderate volume. Boot Barn rose 4.1% to $11.03 and a $292 million market cap; Tilly's rose 5.2% to $9.34 and a $269 million market cap.
AUTOMOTIVE
Autobytel Inc. was up 3.3% to $12.95 and a $143 million market cap. The automobile leads servicer said its consumers bought 1.5 million cars in the U.S. last year.
FINANCE
Consumer Portfolio Services Inc. in Irvine was up 6.7% to $5.10 and a $120 million market cap. The car loan servicer's shares are up about 12% since a positively received quarterly and annual report last week.