Revolution Consolidates at JWA
Tuesday, April 25, 2017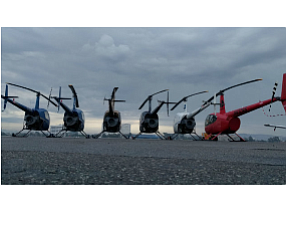 Revolution Aviation in Newport Beach consolidated some its space at John Wayne Airport with an 18-month lease at ACI Jet Center, a fixed-based operator at JWA.
Revolution flies helicopters, single-engine planes and drones, and provides flight training. ACI Jet is the new FBO at the airport; it took over a lease on April 1 that was previously held by Signature Flight Support.
Revolution now has about 9,500 square feet of space. The lease with ACI Jet includes three additional hangars and ramp space totaling 7,000 square feet, and the company has 2,500 square feet with Martin Aviation, based in Santa Ana, which provides limited fixed-base operator services at the airport.
It previously had space at Signature and hangars run by South Coast Associates.
Revolution a year ago had about 5,500 square feet leased.
"We were very proactive in contacting them, to run our business as smoothly as possible; it's been a great transition for us," said Mark Robinson, Revolution's chief executive.
The new lease term is based on ACI's current airport deal, which runs through the end of 2018. A new general aviation master plan under development is expected to call for renovations, and new contracts with its FBOs.