Midday Stock Roundup
Monday, April 24, 2017
Share this article: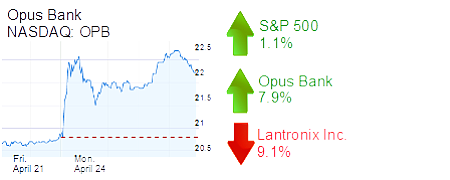 Market indices were up strongly in midday trading following the results of an election in France.
The S&P 500 rose 1.1% to 2,373.53. The Dow Jones Industrial Average climbed 1.1% to 20,770.99. The NASDAQ increased 1.2% to 5,981.31.
The yield on a 10-year Treasury bond increased 1.8% to 2.28%.
The price of gold was unchanged at $1,276.
FINANCE
Opus Bank in Irvine rose 7.9% to $22.35 and an $821 million market cap. The bank reported first quarter net income of $7.7 million compared with a $19 million net loss in the fourth quarter.
TECHNOLOGY
Lantronix Inc. in Irvine fell 9.1% to $2.88 and a $51 million market cap. Lantronix makes data management products and had seen its share price triple since last May; midday volume was nearly double its 90-day average. Lantronix is scheduled to report third-quarter results on Thursday, April 27.