CSUF's Gordon Dies
Wednesday, April 19, 2017
Share this article: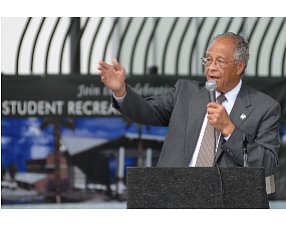 California State University-Fullerton's fourth president, Milton Gordon, died today after a long illness. He was 81.
Gordon became president of CSUF in August 1990 and served in the role for more than two decades, strengthening student recruitment and retention programs and forming new partnerships with public and private entities.
"The impact of Dr. Gordon's leadership is now and will forever be felt at this university and in the lives and family legacies of the approximately 122,000 Titans who graduated," during his tenure, said CSUF President Mildred García, in an email to the campus today.
Gordon led the institution as it grew from 25,600 students to more than 36,000 and oversaw an increase in academic degree programs from 91 to 104, including the establishment of a doctorate in education program, one of the first in the 23-campus California State University system.
He presided over the largest construction period in the university's history—some $636 million in new construction and renovations, ranging from buildings for instruction and student support to residential and parking structures. In all, the campus added 22 buildings and more than four million feet of interior space during his presidency.
CSUF during this time also opened satellite campuses in Santa Ana and Garden Grove and a branch campus—the largest in the CSU system—in Mission Viejo, which later moved to Irvine.
Gordon joined the CSU system in 1986 as vice president for academic affairs and professor of mathematics at Sonoma State University.
He held a doctorate and master's degree in mathematics, and a bachelor's in mathematics and secondary education.
Gordon spent his entire professional life in education, beginning his career as an elementary school teacher.
He is survived by his wife, Margaret Faulwell Gordon; sons, Patrick, Michael, and Vincent; his sister, Dolores Gordon; and grandchildren. Services are pending.