El Pollo Loco Cuts Franchise Fees
Thursday, April 13, 2017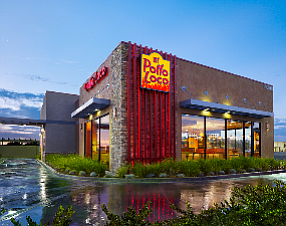 El Pollo Loco Holdings Inc. in Costa Mesa will lower initial franchise fees and cut the royalty rates it charges franchisees to boost growth.
The company runs a chain of fast food chicken restaurants. Franchisors charge operators an upfront franchise fee, and royalty payments based on a percentage of sales volume.
It can cost up to $800,000 to open a location, excluding ongoing real estate costs; average unit volumes are about $2 million.
El Pollo Loco's regular franchise fee is $40,000 and its royalty is 5%.
Its new incentives for multi-unit development deals by new and current operators outside of California and Nevada include:
A franchise fee of $30,000 for the first restaurant and $20,000 for each additional location;
50% discount on the fee for locations opened before the year specified in an agreement;
No franchise fee for restaurants opened beyond the number a franchisee commits to;
Royalty fees of 2% in the first year of a deal, 3% in the second, and 4% in the third;
Chief Development Officer John Dawson said the benefits should "accelerate growth across new markets."
Texas franchisee Chicken Time Holdings LLC in late March committed to 20 locations across several markets by 2022, up from seven that in 2015 it said it would open in the state.
El Pollo Loco has about 460 restaurants in California, Arizona, Nevada, Texas and Utah, up from about 415 two years ago.
It has aimed expansion in the Southwestern U.S. since its mid-2014 initial public offering. Growth in Texas has led it to pursue neighboring states, seeking multiunit operators in New Mexico, Oklahoma, Arkansas and Louisiana.