Midday Stock Roundup
Friday, April 7, 2017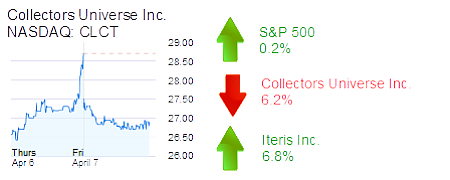 The S&P 500 was up 0.2% in midday trading to 2,361.77.
The Dow Jones Industrial Average was up 0.2% to 20,712.07.
The NASDAQ was up 0.1% to 5,886.71.
The yield on a 10-year Treasury bond rose 0.8% to 2.36%.
The price of gold rose 0.4% to $1,258.
SERVICES
Collectors Universe Inc. in Santa Ana was down 6.2% to $26.90 and a $240 million market cap on above-average volume. The company grades and authenticates collectibles such as coins, autographs, and sports memorabilia.
TECHNOLOGY
Iteris Inc. in Santa Ana was up 6.8% to $5.78 and a $186 million market cap on high volume. The maker of information products for transportation and agriculture had by midday traded shares at a rate twice its 90-day average. Iteris recently signed a deal for its information to be included on a client's system that provides field and crop data to 2,000 corporate subscribers in 40 countries.