Wincome Group Renames Hotel
Thursday, April 6, 2017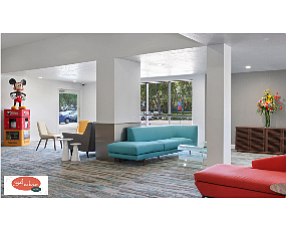 The former Anaheim Plaza Hotel & Suites has been renamed Anaheim Hotel, said hotel owner Good Hope International.
The 302-room hotel is on Harbor Boulevard, across the street from Disneyland Resort.
Good Hope is an affiliate of Wincome Group, a Hong Kong-based developer; other Wincome affiliates own the Anabella Hotel in Anaheim, near the convention center, and Avenue of the Arts, a Tribute Portfolio Hotel, in Costa Mesa, near South Coast Plaza.
Wincome plans to redevelop Anabella and expand its Avenue of the Arts property as well. The developer's OC investment tops $500 million and the three hotels combine to offer more than 1,000 rooms.
Anaheim Hotel saw changes to its lobby, ballroom, pool area, and guest rooms and suites; work still to come includes landscaping, exterior paint, new parking lot, and a new façade and entry. Rates start at $99, its website said.
A spokesperson declined to say how much the work cost and called the changes "near-term improvements" prior to the full-scale $200 million redevelopment of the property into a higher-end, 580-room hotel; the city has approved those plans, but Wincome hasn't said when it will begin the work.
A host of hotels, retail, and restaurant properties near Disneyland Resort and the Anaheim Convention Center are in the midst of major redevelopment or new projects. They are expected to benefit from Disneyland's Star Wars Land, now under construction, and a convention center expansion that adds 200,000 square feet of meeting space, for a total of 1 million square feet, that's set to open in September.