Midday Stock Roundup
Thursday, September 29, 2016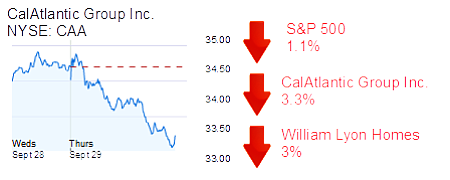 Indices were down in midday trading on the potential unraveling of a deal by OPEC to cut oil production.
The S&P 500 was down 1.1% to 2,148.48. The Dow Jones Industrial Average was down 1.2% to 18,114.62. The NASDAQ was down 1% to 5,266.69.
The yield on a 10-year Treasury bond fell 0.8% to 1.56%.
The price of gold rose 0.2% to $1,326.
REAL ESTATE
Orange County home builders were down as an index of the number of homes that went under contract fell 2.4% in August to the lowest level since January, the National Association of Realtors said.
Irvine-based CalAtlantic Group Inc. was down 3.3% to $33.07 and a $3.9 billion market cap. Irvine-based Tri Pointe Group Inc. was down 1.6% to $13.03 and a $2.1 billion market cap. Newport Beach-based William Lyon Homes was down 3% to $18.14 and a $590 million market cap. Aliso Viejo-based New Home Co. Inc. was down 1.2% to $10.35 and a $218 million market cap.