JWA Traffic Dip on Southwest Drop
Tuesday, September 20, 2016
Share this article: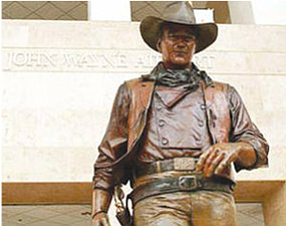 John Wayne Airport passenger traffic declined slightly in July compared with the same month a year earlier because of a "Southwest reduction," an airport spokesperson said.
Southwest in July carried about 403,000 passengers—23,000, or 5% fewer than July 2015's 426,000.
The overall passenger count was about 925,000, down 0.4% from about 928,000 in July 2015.
It was the first year-over-year monthly decline in 2016; passenger totals have risen between 8% and 13% each month this year, compared with the same periods last year.
Year-to-date passenger traffic is up 8.5% to 6.2 million, from 5.7 million last year at this point.
Smaller regional carriers increased passenger counts but not enough to make up for the Southwest decline, the spokesperson said.
There were 3,917 commercial flights, up about 8% year-over-year from 3,619.
International passenger totals and flights were up at about 40,200 passengers compared with about 37,700, or about 7% more than in July 2015, on five additional flights.
The three highest airline totals were Southwest's 403,000 passengers; American with about 152,000; and United with about 118,000.