Midday Stock Roundup
Thursday, September 8, 2016
Share this article: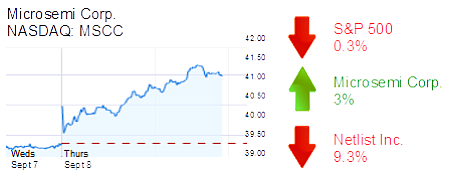 The S&P 500 was down 0.3% in midday trading to 2,178.87.
The Dow Jones Industrial Average was down 0.4% to 18,460.94.
The NASDAQ was down 0.6% to 5,251.55.
The yield on a 10-year Treasury bond was up 4.1% to 1.60%.
The price of gold was down 0.7% to $1,341.
TECHNOLOGY
Aliso Viejo-based Microsemi Corp. was up 3% to $40.51 and a $4.6 billion market cap on moderate volume. The company makes semiconductors.
Irvine-based Netlist Inc. was down 9.3% to $1.55 and a $79 million market cap. The memory products maker said it planned to raise $15 million by selling 8.5 million common shares for about $1.76 apiece.
HEALTHCARE
Irvine-based Biolase Inc. was up 5% to $1.89 and a $110 million market cap on high volume. The dental laser maker had by midday traded shares at a rate three times its 90-day average. Shares are up 50% in the last month.