Karma Sticker: $130K
Thursday, September 8, 2016
Share this article: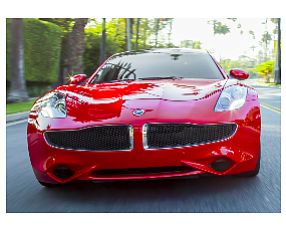 Karma Automotive LLC in Costa Mesa set the price for its Revero sports car at $130,000 but it was unclear when the car would be delivered to the 80 buyers who've placed initial orders.
"It's just 'when it's ready,'" said Jim Taylor, Karma chief revenue officer. "We aren't in a private equity situation like the prior guys … We've got an owner that's got patient capital. He's in this for the long haul, and the first thing he told us is 'just get it right.'"
Taylor said Karma "never had a deadline" or expectations on sales volume.
"We kind of hit the lottery with this owner," he said. The only expectation is, "quality, quality, quality … and that's when we'll start delivering it to customers. But we are happy to take the order ahead of time."
Taylor's remarks came at an unveiling event for the 2017 Revero on Thursday in Huntington Beach.
Cars will be made at Karma's 556,000-square-foot facility in Moreno Valley. Karma has more than 700 employees and anticipates that number to swell to about 1,000 as part of a pending move to its new headquarters in Irvine.

The automaker was known as Fisker Automotive and Technology Group LLC before Wanxiang Group Corp.—one of the largest auto parts makers in China—bought it in a 2014 bankruptcy court auction for $149 million in cash.
Wanxiang also owns Fisker's former lithium ion battery maker, A123 Systems Inc., which it got in 2013 for about $256 million.
The Revero is powered by electricity, gas and solar energy; can hit 60 miles per hour in 5.4 seconds; and has undergone a "ground-up rebuild" of its electrical system, with powertrain improvements and faster charging—up to 80% capacity in 24 minutes—compared to the Fisker, the company said.
It will come in several color options and include two interior options with names that give a nod to the car's Orange County roots—Crystal Cove and Salt Creek.
Orders are placed online and based on state franchising laws will be delivered through dealers or Karma's company stores, one of which will be at its corporate headquarters. It also has a network of 10 dealers—four of them former Fisker lots.
Marketing will be "surgical," Taylor said, adding dealers are expected to devote only a portion of their showrooms to the car, given its select appeal.
The automaker's target customer wants exclusivity and excellent design, Taylor said at the event, which equates to a demographic of about 250,000 people with household incomes above $300,000—most of whom already own luxury cars.