Airport Area Hilton Sells
Thursday, September 1, 2016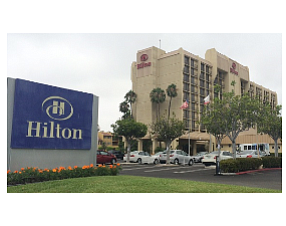 Infinity Realty Advisors in Los Angeles said a client bought the 306-room Hilton Irvine/Orange County Airport.
A price wasn't immediately available but industry sources said the hotel was being marketed for about $80 million by the Los Angeles office of HFF, formerly Holliday Fenoglio Fowler.
The seller was an affiliate of DiNapoli Capital Partners in San Jose, which bought the hotel in January 2015 for an estimated $53 million, or $175,000 per room.
An $80 million sale would give a per-room price of about $260,000—a 50% increase in 21 months.
The hotel recently completed a $6 million renovation that added four rooms to a previous count of 302, swapped out tennis courts in exchange for a tented, outdoor meeting space, and connected the restaurant, Aura Bar & Grill, to the lobby and patio.
"They opened up the floor plan," to make the space more inviting, said Karin Chao, a partner in Infinity. She said the hotel wants to expand the marketing of its event space.
Infinity partners are Chao, her father Eddy Chao, and Richard Alter, according to a release.
"Infinity is the project sponsor, we put together the syndicate and are asset managing the hotel," Karin Chao said.
A Pasadena-based limited liability company with the hotel's street address in its name—18800 MACARTHUR HMEJ LLC—registered with the state of California in early August.
Infinity advised a China-based buyer on the purchase of the Holiday Inn LAX near Los Angeles International Airport in July.