Midday Stock Roundup
Monday, October 31, 2016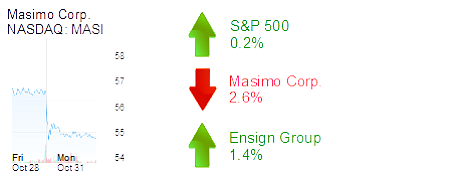 The S&P 500 was up 0.2% in midday trading to 2,129.57.
The Dow Jones Industrial Average was up 0.1 to 18,172.81.
The NASDAQ was up 0.1% to 5,194.63.
The yield on a 10-year Treasury bond fell 0.3% to 1.84%.
The price of gold fell 0.2% to $1,274.
HEALTH CARE
Irvine-based Masimo Corp. was down 2.6% to $54.85 and a $2.7 billion market cap. The maker of noninvasive medical monitoring products announced that Adam Mikkelson was elected to the board. Mikkelson is a partner at hedge fund Camber Capital Management LLC in Boston. The fund usually invests in value stocks of micro-cap and small-cap healthcare companies.
Mission Viejo-based Ensign Group Inc. was up 1.4% to $18.48 and a $930.4 million market cap. The urgent care center operator and healthcare service provider plans to announce third quarter earnings while markets are trading on Nov. 3.
RESTAURANTS
Irvine-based Habit Restaurants Inc. was up 1.3% to $14.07 and a $425.3 million market cap. The fast-casual burger chain plans to release second quarter earnings after the markets close on Nov. 2.