Midday Stock Roundup
Wednesday, October 26, 2016
Share this article: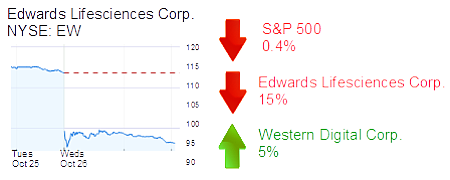 The S&P 500 was down 0.4% in midday trading to 2,135.49.
The Dow Jones Industrial Average was down 0.1% to 18,157.76.
The NASDAQ was down 0.8% to 5,242.16.
The yield on a 10-year Treasury bond rose 1.7% to 1.79%.
The price of gold fell 0.5% to $1,268.
HEALTHCARE
Irvine-based Edwards Lifesciences Corp. was down 15% to $96.44 and a $20 billion market cap. The heart valve maker reported revenue and earnings for its most recent quarter that were 20% higher year-over-year but international sales of its main product line, the Sapien heart valves, grew at a rate below analysts' expectations.
Laguna Hills-based Glaukos Corp. was down 5% to $33.87 and a $1.1 billion market cap on moderate volume. The company makes products to treat glaucoma.
Irvine-based Endologix Inc. was down 6% to $11.19 and a $923 million market cap on moderate volume. The company makes devices to treat aortic aneurysms. Shares have fallen about 13% this week. Endologix is set to report quarterly results Tuesday.
Costa Mesa-based Nemus Bioscience Inc. was down 50% to 70 cents and a $14 million market cap. Shares in the company, which develops cannabis-based therapies, had more than doubled this week. It said this morning it would sell $500,000 worth of preferred stock that is convertible into common stock at 40 cents a share.
TECHNOLOGY
Irvine-based Western Digital Corp. was up 5% to $56 and a $16 billion market cap. The memory products maker is scheduled to report earnings today after markets close.
FOOD
Irvine-based True Drinks Holdings Inc. was up 43% to 12 cents and a $9.5 million market cap. The beverage maker said it had added more than 3,200 stores to its distribution in the last quarter.