Allergan's Saunders Adds Chairman Role
Wednesday, October 26, 2016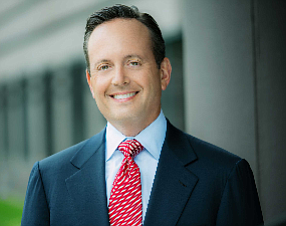 Allergan Plc President and Chief Executive Brent Saunders is now also Chairman of the drug maker's board of directors, replacing Paul Bisaro.
Saunders has been president and chief executive since July 2014, when the company, then called Actavis Plc, bought Forest Laboratories Inc. in New York, where Saunders had held the same roles.
Bisaro was president, chief executive and chairman of Actavis prior to its purchase of Forest Laboratories, and was named executive chairman when the deal closed in 2014.
The two men noted the "completed … transformation" of Actavis Plc, which had formerly focused on making generic drugs, into Allergan Plc, which makes branded drugs.
Allergan operates in about 100 countries and has annual revenue of about $15 billion.
Allergan has operational headquarters in New Jersey, corporate headquarters in Ireland and keeps an aesthetics medicine and eye care hub in Irvine.