Wienerschnitzel Franchisee Wants 10 More
Tuesday, October 25, 2016
Share this article: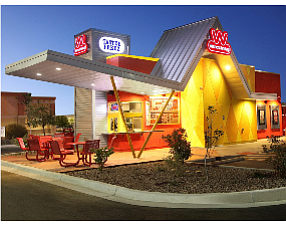 Wienerschnitzel in Irvine said a current franchisee would add 10 locations in California and Texas.
The franchisee, Tahir Salim, and his sons, Zohaib and Vakaf, along with partners and affiliates own and operate 13 locations of the hot dog chain, in those two states.
Tahir Salim is based in Murrieta and does land development and runs an apartment search website.
The new locations will be built under the chain's Heritage design, which is a smaller building than its traditional sites that can be built faster, cheaper and in locations that can't accommodate a full-sized restaurant.
Locations are about 750 square feet and can be drive-thru only.
Standard locations can cost as much as $1.3 million to open; the chain's smaller locations can open for as little as $156,000, state franchise documents show.
The Heritage design is a retro version of the company's former "A-frame" look that was prominent in the 1970s.
Wienerschnitzel has 325 locations in 10 states, with 30 locations in Orange County.
Systemwide sales were about $241 million in 2015, which ranked No. 12 on the Business Journal's 2016 list of OC-based restaurant chains.
The chain is part of Galardi Group Inc., also based in Irvine.