JetSuite Gets JetBlue Investment
Tuesday, October 25, 2016
Share this article: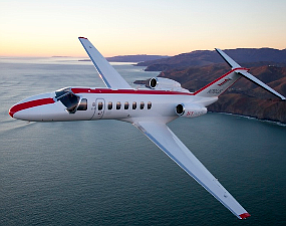 JetBlue Airways Corp. took a minority stake in JetSuite Inc. in Irvine.
JetBlue is a publicly traded commercial airline based in Long Island City, N.Y.
JetSuite is based in Irvine and flies mainly charter flights with four- and six-seat aircraft. It has begun to add scheduled flights to Silicon Valley from airports in Burbank and Carlsbad on planes that can hold up to 30 passengers under a new venture called JetSuiteX.
JetSuite has applied to add the services at John Wayne Airport in 2017.
The JetBlue investment will be used to expand that service.
Cities served by JetSuiteX in California include Burbank, Carlsbad, San Jose, Concord, and Mammoth, as well as Las Vegas, Nev., and Bozeman, Mont.

Jet Blue will get a board seat at JetSuite and the two airlines will cooperate on points earning and redemption for customers of JetBlue's loyalty program.
JetSuite Chief Executive Alex Wilcox worked at JetBlue prior to founding JetSuite, and JetBlue founder David Neeleman, now chief executive of Azul Brazilian Airlines, sits on JetSuite's board.