Smithsonian Award for Gross
Wednesday, October 19, 2016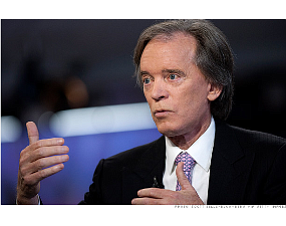 Bill Gross, "The Bond King," may soon lay claim to being among "the greatest stamp collectors of all time."
The Smithsonian's National Postal Museum will award the 2016 Smithsonian Philatelic Achievement Award to the Orange County bond investor in Washington, D.C., on Oct. 22.
Gross manages Janus Capital Group's Global Unconstrained Bond strategy, a position he has held since 2014. He previously co-founded of Newport Beach-based Pacific Investment Management Co. in Newport Beach.
The award was created in 2002 to honor living individuals for their outstanding lifetime achievement in philately, the collection and study of postage stamps. It recognizes research that significantly advances the understanding of philately, service to the philatelic community, or sustained promotion of philately to current and future collectors.
"There is the pleasure of the hobby itself, which has brought countless hours of satisfaction in researching the history behind these miniature works of art," Gross said, "and then there is the knowledge that the returns from my hobby have served a higher purpose in benefiting the less fortunate."
Gross and his wife, Sue, have donated $10.8 million to build the William H. Gross Stamp Gallery in the National Postal Museum, and donated almost $25 million from the sales of his stamp collection to nonprofit organizations including the PIMCO Foundation, Doctors Without Borders, the Millennium Villages Project, the Hawaii Foodbank and The New York Times Neediest Cases Fund.
"There has never been anyone in philately as philanthropic as Bill, and he wanted to create something special, which he has," said Charles Shreve of Robert A. Siegel International, Gross's longtime philatelic adviser and dealer. "Without his gift there would have never been a new Smithsonian National Postal Museum, the finest in the world. Bill has contributed greatly to the general public's view of collecting in a positive way."
Gross received the Collectors Club of New York's Alfred F. Lichtenstein Award in 2011 and the 2016 Distinguished Philatelist Award from the United States Philatelic Classics Society.