Interim Venue to Replace Irvine Meadows
Tuesday, October 18, 2016
Share this article: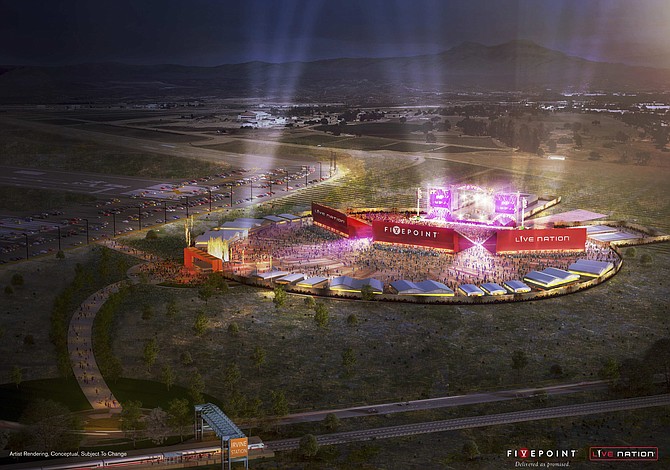 FivePoint Communities Management Inc. in Aliso Viejo said part of its property bordering Orange County Great Park would be available for the operation of an "interim amphitheater," pending approval by the city of Irvine.
FivePoint partnered with Live Nation Entertainment Inc. to design and build the outdoor pavilion, which would have 12,000 seats, parking and concession stands. It hopes to open in time for the 2017 summer season.
Irvine City Councilwoman Christina Shea said the approval of the developer's conditional use permit may come by the end of the year or in early January.
FivePoint, which sells residential lots in the area at $5 million an acre, has dedicated 45 acres to the project for up to three years.
"We will not be able to use this land (for any other purpose), so obviously it is a loss for us, but at the same time, it's very important to have [the concert venue], so that's the decision I decided to make—give this land, set it aside and say, 'Yes, we may have a delay in our own development, but it's the right answer for Great Park," said FivePoint Chief Executive Emile Haddad.
FivePoint plans to build nearly 9,500 homes on a portion of the former El Toro Marine base in Irvine, and is helping the city develop an additional 688 acres of Great Park into a variety of recreational uses.
The interim amphitheater would replace Irvine Meadows, which opened in 1981 and will shutter this month to make way for an Irvine Company residential development. Irvine Meadows has hosted Michael Jackson, David Bowie, Jimmy Buffett, KROQ's Weenie Roast, and the Pacific Symphony Orchestra during its 35-season run.
Live Nation, which manages Irvine Meadows, has also partnered with FivePoint on plans to build a permanent venue to be the central part of the "Cultural Terrace" at Great Park. That project is also waiting for the city's approval.