Midday Stock Report
Wednesday, October 12, 2016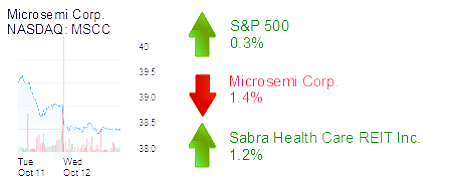 Trading was light at midday as investors waited for the release of the Federal Reserve's meeting minutes and insights about possible interest changes.
The S&P 500 was up 0.3 % to 2,141.99. The Dow Jones Industrial Average was up 0.2% to 18,168.13. The NASDAQ was flat at 5,248.15.
The yield on a 10-year Treasury bond rose 1.8% to 1.79%.
The price of gold was down 0.2% to $1,253.
TECHNOLOGY
Aliso Viejo-based Microsemi Corp. was down 1.4% to $38.47 and a $4.4 billion market cap. Analysts estimate the semiconductor maker to have revenue of $433 million, down 3%, for the quarter ended in September. The company is expected to announce fourth quarter results by Oct. 31.
HEALTHCARE
Irvine-based Sabra Health Care REIT Inc. was up 1.2% to $23.65 and a $1.5 billion market cap. The owner and manager of real estate leased to health care companies is selling 29 skilled-nursing facilities.
FINANCE
Santa Ana-based First American Financial Corp. was up 2.2% to $40.31 and a $4.4 billion market cap. The title insurance firm bought TD Service Financial Corp. of Orange on undisclosed terms.