Platinum Triangle Developer in $255M JV with China Fund
Friday, October 7, 2016
Share this article: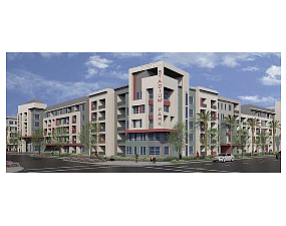 The Texas developer planning to build one of the larger apartment complexes in Anaheim's Platinum Triangle has entered into a $255 million venture with a private equity fund from China to finance the project.
Irving, Texas-based JPI said it will work with Beijing-based Grand China Fund to build its Jefferson Stadium Park project, a mid-rise apartment development slated to go up on a 17.6-acre property across the street from Angel Stadium.
The money will be used to build 747 apartment homes and a 1.1-acre park on the southwest corner of State College Boulevard and Gene Autry Way. JPI bought the land for the project from San Francisco-based industrial developer Prologis Inc. last year.
Prologis had previously proposed building a 1,200-unit mid-rise residential project, shops and 100,000 square feet of office space on the site.
Jefferson Stadium Park is the second project for JPI in the Platinum Triangle. It's currently building the $180 million Jefferson Platinum Triangle, a 400-unit apartment complex near the intersection of State College Boulevard and Katella Avenue.
Grand China Fund counts about $1.5 billion in commercial real estate assets under management, and owns other property in Seattle, Los Angles, Dallas, Houston, Austin, Orlando and New York City.
Its venture with JPI is the first between the two companies.
The Platinum Triangle has attracted its share of funding from China of late.
LT Global Investment, a Hong Kong-based developer with U.S. operations based in Los Angeles, is looking to turn a 14.8-acre vacant parcel it owns on Orangewood Avenue next to the stadium into a project featuring a 30-story condo tower, a hotel, a 255-unit apartment complex, an office and about 433,000 square feet of retail space.
JPI has been using EB-5 visa investments—a federal initiative administered by U.S. Citizenship and Immigration Services that allows foreigners to apply for permanent residency in the U.S. in exchange for investing funds in job-creating projects here—for other apartment developments it has in the U.S.