Midday Stock Roundup
Thursday, October 6, 2016
Share this article: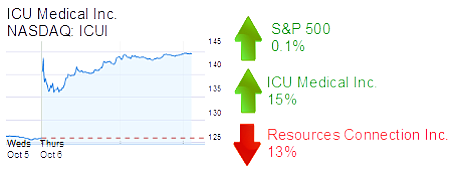 The S&P 500 was up 0.1% in midday trading to 2,161.67.
The Dow Jones Industrial Average was down 0.1% to 18,264.50.
The NASDAQ was down 0.1% to 5,310.14.
The yield on a 10-year Treasury bond rose 1.3% to 1.74%.
The price of gold fell 1.3% to $1,252.
HEALTHCARE
San Clemente-based ICU Medical Inc. was up 15% to $144.65 and a $2.3 billion market cap. The infusion therapy device maker said it will pay $1 billion in cash and stock for Pfizer Inc.'s infusion products division. The deal gives Pfizer a one-sixth stake in ICU Medical, which will also see annual revenue quadruple.
Irvine-based Aerie Pharmaceuticals Inc. was up 3% to $40.50 and a $1.2 billion market cap. The development stage glaucoma drug maker's shares were maintained at Stifel Nicolaus with a "buy" rating and a $55 price target.
SERVICES
Irvine-based Resources Connection Inc. was down 13% to $13.06 and a $471 million market cap. The business consultant had net income of $5.6 million on $143.4 million in revenue in its first quarter, compared with $7.1 million in net income on $148.3 million year-over-year. The company also said President and Chief Executive Tony Cherbak will step down for health reasons, effective Friday, and be replaced on an interim basis by its Chief Legal Officer Kate Duchene. Two analysts maintained "sell" and "neutral" ratings on its shares with price targets of $12 to $14.