JetSuite to Fly From Carlsbad
Wednesday, October 5, 2016
Share this article: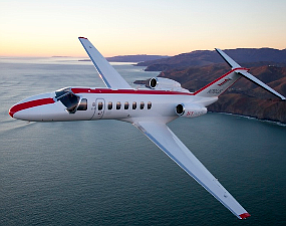 JetSuite in Irvine plans to offer flights from Carlsbad to San Jose beginning Oct. 17, a news report said.
The airline flies about 2,000 passengers on 1,200 chartered flights a year from its base at John Wayne Airport, on four- and six-seat jets to various locations as a general aviation carrier.
It launched JetSuiteX in April and began to fly scheduled routes with larger, 30-seat aircraft from Burbank Bob Hope Airport to the Bay Area and Las Vegas.
JetSuite has applied to increase its seat allocation at John Wayne Airport; the Orange County Board of Supervisors is set to consider the airport's annual allocation plan at its regular meeting on Oct. 11.
Four weekday roundtrip flights a week from Carlsbad's McClellan-Palomar Airport to Mineta San Jose International Airport initially will be on the smaller planes and be chartered flights, the report said.
JetSuite Chief Executive Alex Wilcox described the plan as a test and said the company would add flights on the route with the larger-capacity planes based on demand.