Avocado, Heart-Health Group in Pact
Monday, October 3, 2016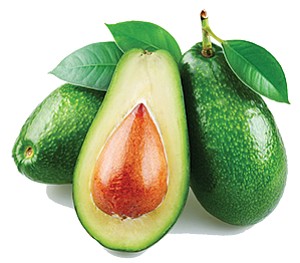 The Hass Avocado Board in Mission Viejo formed a four-year partnership with the American Heart Association "to galvanize Americans to eat the recommended amounts of fruits and vegetables every day."
The two organizations will collaborate on certification and development of recipes bearing the "Heart-Check," a symbol placed on food products that "fit into the American Heart Association's approach to a healthy lifestyle."
The 25 recipes will include Avocado Bibimbap, a mixed rice dish; Kale Avocado Salad with Roasted Carrots; and Tomatillo Touchdown Guacamole, and will be part of "highly targeted food- and fitness-focused" campaigns."
"Our desire to identify new and varied ways to incorporate avocados into everyday healthy eating patterns has always been about our overarching commitment and drive to build healthier lives," said Hass Avocado Board Executive Director Emiliano Escobedo in a statement. "The produce industry has long been an important factor in adding color to consumers' eating habits."
Escobedo said the alliance could "raise overall awareness of the important role all fruits and vegetables have in improving the quality of life for millions, and ultimately helping to save thousands of lives."
The Hass Avocado Board—overseen by the U.S. Department of Agriculture—was set up in 2002 to promote the consumption of avocados. It collects an assessment from domestic Hass producers—all based in California, according to the group—and from about 150 importers around the U.S. The assessment comes to about 2.5 cents for each pound of fresh avocados sold on the market.
The board distributes 85% of the money to various associations representing growers' and importers' interests, including Irvine-based California Avocado Commission, the Mexican Hass Avocado Import Association, the Peruvian Avocado Commission and the Chilean Avocado Import Association.
The trade groups have to use the funds to market their avocados in the U.S. The board retains the remaining 15% of the assessment to promote the overall avocado industry, regardless of the fruit's origin.