Midday Stock Roundup
Friday, November 25, 2016
Share this article: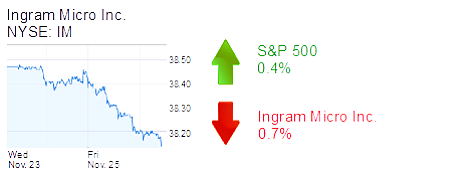 U.S. markets showed light trading volume and closed at 10 a.m., local time, the day after Thanksgiving.
The S&P 500 was up 0.4% in midday trading to 2,213.35.
The Dow Jones Industrial Average was up 0.4% to 19.152.14.
The NASDAQ was up 0.3% to 5,398.92.
The yield on a 10-year Treasury bond was up 0.6% to 2.37%.
The price of gold was down 0.7% to $1,181.
TECHNOLOGY
Shares of Irvine-based Ingram Micro Inc. were down 0.7% to $38.14 and a $5.7 billion market cap on heavy trading volume. The technology products distributor announced a Dec. 15 closing date for its $6 billion merger with shipper Tianjin Tianhai Investment Company, Ltd. in Tianjin, China. The deal is pending approval from the Chinese government. Ingram Micro shares are up 28% year to date.