Acquisition May Stem American Apparel Cuts
Monday, November 21, 2016
Share this article: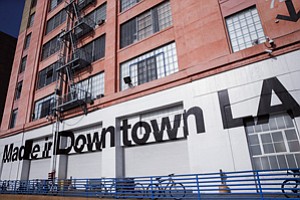 American Apparel LLC said a $66 million bankruptcy sale to Gildan Activewear Inc. could help it stave off a round of layoffs, including of 332 workers at its dye house in Garden Grove.
Los Angeles-based American Apparel, which is known for its commitment to domestic manufacturing, had notified the state Employment Development Department on Nov. 7 that it would lay off the local workers in early January, along with 959 workers in South Gate and 2,166 workers at its L.A. headquarters.
Montreal, Canada-based Gildan agreed to buy American Apparel's intellectual property and some wholesale assets and said it will try to "maintain all or a portion of [the company's] manufacturing, distribution and warehouse operations."
American Apparel has about 5,900 employees worldwide and runs 193 retail stores. Its Chapter 11 bankruptcy filing earlier this month in U.S. Bankruptcy Court in Delaware was the company's second bankruptcy filing in the past year.