Midday Stock Roundup
Thursday, November 17, 2016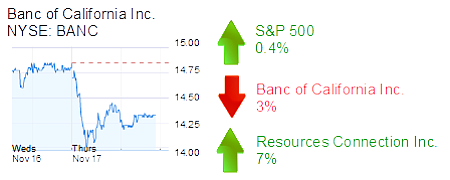 The S&P 500 was up 0.4% in midday trading to 2,186.60.
The Dow Jones Industrial Average was up 0.1% to 18,880.88.
The NASDAQ was up 0.7% to 5,330.76.
The yield on a 10-year Treasury bond was up 2.5% to 2.28%.
The price of gold was down 0.2% at $1,222.
BANKING
Banc of California in Irvine was down 3% to $14.32 and a $712 million market cap after the bank holding company said it had delayed filing its third quarter financial report.
SERVICES
Irvine-based Resources Connection Inc. was up 7% to $16.98 and a $610 million market cap. The consulting firm's repurchase of 6 million shares—19% of its common stock—at prices up to $16 was oversubscribed by 11%. Resources Connection expects now to pay about $108 million to buy back 6.7 million shares.
HEALTHCARE
Irvine-based CombiMatrix Corp. was up 15% to $2.70 and a $6.8 million market cap on high volume.