Midday Stock Roundup
Tuesday, November 15, 2016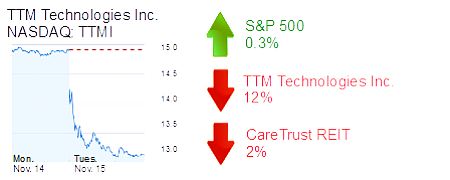 The S&P 500 was up 0.3% in midday trading to 2,170.71.
The Dow Jones Industrial Average was down 0.2% to 18,841.06.
The NASDAQ was up 0.8% to 5,257.63.
The yield on a 10-year Treasury bond was up 0.1% to 2.22%.
The price of gold was up 0.8% at $1,228.
TECHNOLOGY
Costa Mesa-based TTM Technologies Inc. was down 12% to $13.11 and a $1.3 billion market cap. The printed circuit board maker said Su Sih Ltd., a China-based company that at one time held about one-third of TTM's common stock, and has been reducing its holdings over the last several years, had decided to sell 12 million shares. Su Sih will own about 15 million shares after the sale. TTM has about 100 million shares outstanding.
HEALTHCARE
Mission Viejo-based CareTrust REIT Inc. was down 2% to $13.71 and a $794 million market cap. The senior housing and healthcare facilities owner priced a public offering of 5.5 million shares at $13.35 per share. The company has about 57 million shares currently. CareTrust plans to use the proceeds to fund pending acquisitions and may repay portions of its revolving credit facility.