Hyundai Owners Get Voice Controls
Tuesday, November 15, 2016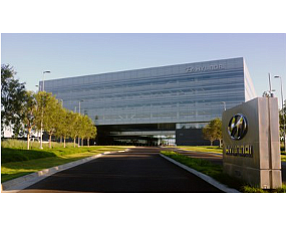 Hyundai Motor America Inc. in Fountain Valley will work with Amazon.com to offer remote voice-control features on its entire 2017 lineup.
Hyundai's Blue Link technology lets consumers unlock cars, turn on headlights, start engines and set cabin temperature using a mobile app on their smartphones. The deal with Amazon enables the same tasks via voice commands from an Amazon Echo speaker-equipped home or office. Those who own the IONIQ electric vehicle will also be able to start or stop the charging process.
"Our customers increasingly want more ways to interact with their vehicles, especially when they are hustling to get out the door," Barry Ratzlaff, executive director for digital business planning and connected operations, said in a statement. "Linking smart devices like the Amazon Echo and Apple Watch to vehicles via Blue Link continues to fill that desire."
The voice-control service is already available on vehicles from recently established Hyundai spinoff Genesis Motors USA in Fountain Valley.