Taco Bell Unveils New Logo, Clothing Line
Monday, November 14, 2016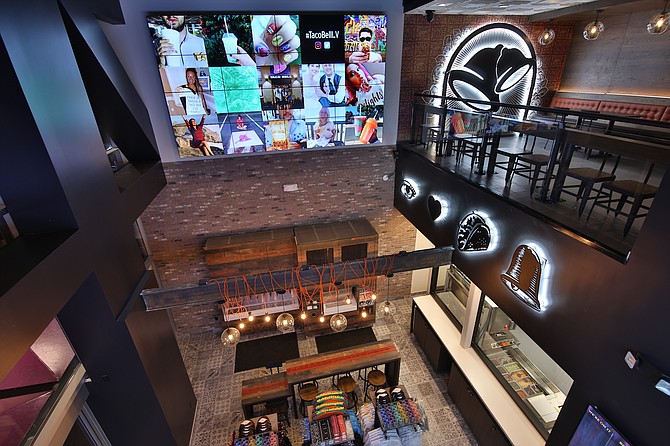 Irvine-based Taco Bell Corp. unveiled a series of new moves Monday: its new flagship restaurant in Las Vegas, a logo refresh, and its debut company-branded clothing.
The Las Vegas "cantina" site is the fourth "urban"-styled restaurant in the system. It offers 24-hour service and serves alcoholic drinks and shareable menu items. The other cantina stores are in Chicago, San Francisco and Austin.
The restaurant is in a two-story building that has a dedicated space for DJ entertainment, community-style seating, VIP lounges and an upstairs mezzanine and lounge area.
It also has 16 screens to display entertainment shows, live-stream video, sports and social media conversations.
"The restaurant will offer a dining atmosphere fit for the lifestyle of the Vegas Strip," the company said.
Customers can purchase Taco Bell-branded items—hats, bikinis, shirts, rings and sweatshirts—at the Las Vegas restaurant. The items are being sold online at the Taco Bell Shop.
The company's new logo sports a new purple bell on a white background with the company name in black letters. The previous logo, which used four colors, was released in 1995. The new design allows the company to customize logos for stores by varying patterns and textures while keeping the image of a bell.
Taco Bell is a subsidiary of Yum Brands, Inc. in Louisville, Ky. It employs 2,000 at has 79 restaurants locally. It operates 7,000 stores systemwide and had $9 billion in sales last year.