Lawn Device Startup Bought
Monday, November 14, 2016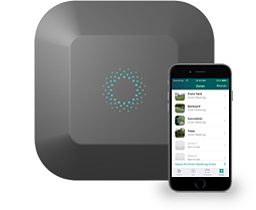 Blossom, a startup based at The Cove in University Research Park, has been acquired by Marysville, Ohio-based The Scotts Miracle-Gro Company. Blossom had developed a smart-sprinkler system. Scotts sells products for lawns and gardens.
Terms of the deal have not been disclosed.
Blossom had been working with Scotts for about a year on its "Connected Yard" initiative, an effort to use networked Internet of Things devices for home lawns and gardens. Scotts had already incorporated Blossom's product into an app in development called Gro that automatically controls irrigation and fertilization, and collects information from sensors attached to plants.
"They wanted to automate the whole yard, and we felt like they were in the best position to inspire the next generation of gardeners through technology," said Lance Harper, Blossom's former director of operations.
Harper and five other Blossom employees now work for Scotts, although they're staying at The Cove, where they just extended their lease for another year. Blossom founder and former Chief Executive Manrique Brenes has left to pursue a new venture in the Bay Area. He couldn't be reached for comment.
Blossom had raised about $3 million before the acquisition, Harper said.
It has two products: a 12-zone smart irrigation system and an eight-zone version.
"Being part of a startup takes a lot of energy," Harper said. "You're always in pursuit of raising money. We have some great things that we want to develop. Scotts has helped us define what we need to be working on as part of the Connected Yard going forward. We thought, let's partner and be acquired and be part of the Scotts team and do what we really want to do—develop the next generation of IoT devices rather than constantly worry if we're going to run out of money."
The Internet of Things is a networked system, in which everyday objects are connected, allowing them to send and receive data.