Midday Stock Roundup
Friday, November 11, 2016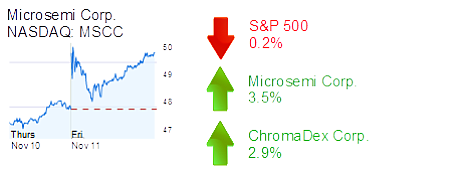 The S&P 500 was down 0.2% in midday trading to 2,162.60.
The Dow Jones Industrial Average was flat at 18,802.05.
The NASDAQ was up 0.4% to 5,229.21.
The yield on a 10-year Treasury bond was flat at 2.12%.
The price of gold was down 2.8% at $1,231.
TECHNOLOGY
Aliso Viejo-based Microsemi Corp. was up 3.5% to $49.53 and a $5.6 billion market cap. The semiconductor maker reported adjusted profit of about $105 million on revenue of $450 million for its most recent quarter and full- year adjusted profit of $333 million on revenue of $1.65 billion.
HEALTHCARE
Irvine-based ChromaDex Corp. was up 2.9% to $2.87 and a $108 million market cap. The ingredients maker said it had "productive discussions" with the Food and Drug Administration about a possible treatment for Cockayne Syndrome, a disease that shortens the lifespan in affected children.