Del Taco to Add 14 in Phoenix
Thursday, November 10, 2016
Share this article: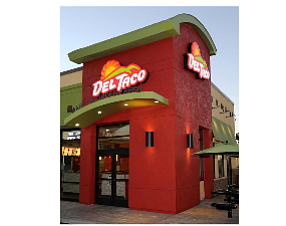 Del Taco Restaurants Inc. in Lake Forest said two franchisees would open 14 stores in the Phoenix market.
The first new restaurants are planned for 2018; the Mexican-style fast food franchise system currently has 36 locations in Arizona.
Ten of the new restaurants are set for the Scottsdale area, a high-end suburb northeast of Phoenix, from new franchisee CAI Investments LLC in Las Vegas.
CAI Managing Partner Christopher Beavor's company has invested in office and retail properties, student housing, and resorts in Florida and Croatia, and it manages distressed assets for lenders, its website said.
The other four Phoenix-area locations are set for areas southeast of the city from Del Taco's largest franchisee in its system, Desert Taco LLC in Scottsdale, run by Brent Veach.
Veach owns some 40 locations in Arizona and Colorado, the company said, and has been a franchise since 1999, according to Veach's LinkedIn profile. In 2011 he bought the last six company-owned restaurants in Phoenix from Del Taco.
Del Taco is the fourth largest restaurant chain based in Orange County with $700 million in systemwide sales. It employs about 1,260 locally at 73 OC locations and has 550 locations systemwide.