Midday Stock Roundup
Thursday, November 3, 2016
Share this article: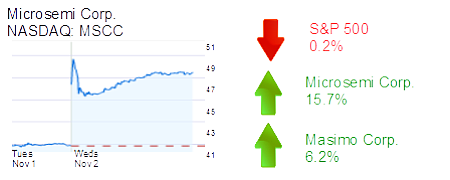 The S&P 500 was down 0.2% in midday trading to 2,093.64.
The Dow Jones Industrial Average was flat at 17.961.87.
The NASDAQ was down 0.5% to 5,078.04.
The yield on a 10-year Treasury bond rose 0.9% to 1.81%.
The price of gold was down 0.4% to $1,302.70.
TECHNOLOGY
Aliso Viejo-based Microsemi Corp. was up 15.7% to $48.40 and a $5.5 billion market cap. Shares in the semiconductor maker leapt after reports that competitor Skyworks Solutions Inc. in Woburn, Mass., was considering a takeover bid. A news report said Microsemi hired Bank of Montreal to find other bidders.
HEALTHCARE
Irvine-based Masimo Corp. was up 6.2% to $57.70 and a $2.8 billion market cap. The medical monitoring device maker earned about $28 million on revenue of $168 million in its most recent quarter. Both numbers beat analysts' forecasts.
Irvine-based Aerie Pharmaceuticals Inc. was down 1.9% to $32.95 and a $1.1 billion market cap. The clinical-stage pharmaceutical company lost $23.8 million in its most recent quarter, compared with an $18 million net loss year-over-year. The loss in the current quarter was larger than analysts' expectations.